FIVE TAKHATS OF KHALSA
Takht Sachkhand Sri Hazur Sahib, Nanded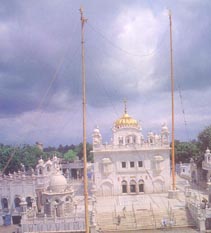 Takht Sachkhand Sri Hazur Sahib reminisces one of the last prodigious monuments of the greatest of the great Guru Sri Guru Gobind Singh Ji. The journey which the great Guru undertook in the east at the holy place of Sri Patna Sahib for the creation of the Khalsa Panth, with the punjab as its battleground, climaxed into Sri Abchal nagar Hazur Sahib. It is this place where the Great Guru breathed his last. His being merged with the bigger Being of the Almighty God. It is also at this place that the Great Guru guided every human being with his astute leadership and keen intellect by incarnating the Great Being in the holy Sri Guru Granth Sahib Ji with a view to guiding the erring humanity for all times to come. The holy 'Word' of Sri Guru Granth Sahib ji shook the very foundations of idol-worship that had been leading human beings astray.
For perpetuating the struggle for independence, Madho Das, a recluse and ascetic as he happened to be, was baptized Banda Singh Bahadur to root out tyranny and oppression of the so-called greats and to put the Punjab on a stable footing.
Gurdwara Sri Nagina Ghat, Gurdwara Hira Ghat, Gurdwara Banda Ghat, Gurdwara Shikar Ghat, Gurdwara Maal Tekri, Gurdwara Sangat Sahib and so on stand to monumentalize the unique achievements of the great Guru Sri Guru Gobind Singh ji.