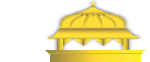 Historical Gurdwaras of Punjab dedicated to Guru Ram Das Sahib




Gurdwara Chaubara Sahib, Goindwal, Dist. Amritsar



In this same house Guru Ram Das was installed as Guru in 1574 and left this world here in 1581. This was the family home of Guru Amar Das who founded the town of Goindwal and settled down here upon becoming Guru on the advice of Guru Amar Das. Guru Arjan Dev was born here in 1563. Guru Amar Das left this world here in 1574.

Gurdwara Guru Ka Mahl, Dist. Amritsar

This was the home of Guru Ram Das and his family. Guru Ram Das founded the city of Ramdaspur (modern day Amritsar) and started the excavation of the 'pool of nectar' called Amritsar. Guru Arjan Dev was married here as well as being appointed Guru here. Guru Hargobind lived here for some time and was also married here. This is also the birthplace of Guru Hargobind's sons Baba Atal Rai and Guru Tegh Bahadur.
---
Site Design & Hosted by
sgpc